______

_____

____

___

__

_




Dog Fans - AirFlow Dually
AirFlow Dually by OakLines. USB powered Dog Fans designed for the Ruffland crate door. Also works with wire crate and vari kennel doors.

Powered by any standard USB port – use your vehicle power outlet - a phone charger plugged into the wall - or go portable with a USB power bank.

High volume low pressure air exchange - simple and effective. Contiunous AirFlow - like a silent gentle breeze.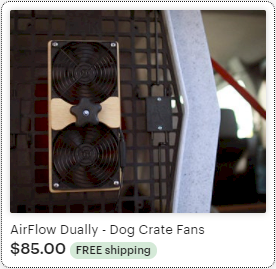 Here are some Amazon affiliate links that might prove useful when installing in a vehicle:
Battery Powered / Vehicle Charged

Battery:
This is a high capacity power source that can run MANY fans simultaneously all day long. What's unique is this one can both charge and discharge at the same time. That means the car can keep it topped off while driving – while the fans are running - and it will take over all together when the car is turned off. You'll want to make sure to plug it into a switched outlet in the car – then everything is automatic - you won't have to worry about draining your car battery. If you don't have a switched charging outlet – simply unplug from the car when you turn the car off.
Jackery Portable Power Station Explorer 160
AIMTOM Power Station 155

Charging Extension Cable:
This cable that allows you find a cool, secure, and safe place for the battery in the vehicle – and still be able to plug it into the car for charging.
EPAUTO 12V 12ft Foot Heavy Duty Extension Cord with Cigarette Lighter Plug Socket

USB Extension Cable:
This cable allows you to extend the distance between the power source (battery) and the fan – you'll need one for each fan you want to extend.
USB Extension Cable

Direct Vehicle Powered

12 volt power to USB power Car Adaptor:
If you have a 12-volt power outlet (cigarette receptacle) available in proximity to the fans and would like to power them directly - you can use a small adapter to convert the 12-volt outlet into a powered USB port that can drive the fans.
USB Car Adaptor

USB Extension Cable:
This cable allows you to extend the distance between the power source (Car Adaptor) and the fan – you'll need one for each fan you want to extend.
USB Extension Cable

Use the affiliate links for the battery and cords – that'll give me a tiny reward - Thanks!

As an Amazon Associate I earn from qualifying purchases


Install Procedure - Ruff Tuff / Ruffland plastic door with center hole:


Install Procedure - wire kennel door: